Harlequin jacket

This is a luxury sweater of generous size with a shawl collar, worked in "fairisle" style motifs inspired by the chequered costume of Harlequin, the comic mischievious character of the Italian Commedi dell'arte - a multi-coloured patchwork of colour.
The design mirrors the playfulness of Harlequin, who traditionally carried a "slapstick", a magic wand that could change the scenery of the play.

Speaking in regional dialect, skipping and turning cartwheels he brought playfulness and joy – so have fun!
Two colours are knitted into each row, the colours alternately carried behind the work to create a soft and lightweight double-layer fabric which has excellent insulation qualities.
100% pure Shetland wool.
This is a one-of-a-kind item, made by me personally.
Veste Arlequin
Voici un manteau de taille généreuse avec col châle, fait en jacquard aux motifs style "fairisle", inspiré par la tenue colorée d'Arlequin - sautillant et tournant des roues pour apporter la joie.

Deux couleurs sont travaillés sur chaque rang, les couleurs tenus derrière pour créer un tissu léger de double couche - de bonne isolation pour les jours frais.
100% laine de Shetland.
Pièce unique fait par mes mains propres.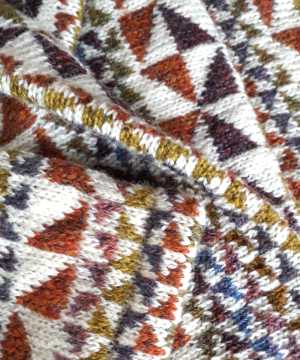 Harlequin jacket
€365 including shipping worldwide
Dimensions:
Chest: 48"
Length: 27"
Sleeve from centre back: 30"
Please allo
w 28 days for delivery
Return accepted within 7 days in good condition and original packaging shipping costs the responsibility of the buyer.
Veste Arlequin
€365 frais de port inclus
Dimensions:
Largeur 122cm
Longueur 68cm
Manche du centre dos 76cm

Compter 28 jours pour la livraison
Retour accepté dans 14 jours en bon état et emballage d'origine.
Tous frais de port sont à la charge de l'acheteur.
---
All designs featured on this website are the Intellectual property and copyright of Gooden Gansey © All rights reserved.

HOME Sale KnitKits & Patterns Resources Contact Newsletter
---
---
Le droit d'auteur de tous les dessins affichés sur ce site sont la propriété intéllectuelle de Gooden Gansey © Touts droits réservés.

ACCUEIL Vente KiTricots & Patrons Ressources Contacte Newsletter
---