Pure silk scarf
Hand-painted : 90cm x 90cm
Brighten dull days with this luscious shimmering hand-painted silk scarf in vibrant colours - to be worn all year round as a fabulous accent to any outfit.

Hand-rolled, this is a one of a kind original wearable art.
The Clàrsach
The design is inspired by the small celtic harp (the clàrsach in the gaelic language) is popular in Scotland, Ireland and Brittany, where it sings with a bright tone.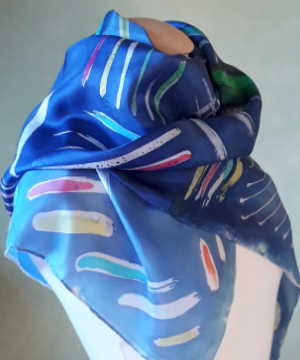 €75 including shipping worldwide
Foulard en soie pure
Peint à la main : 90cm x 90cm

Égayez-vous avec ce magnifique foulard en soie peinte à la main aux couleurs vives - à porter toute l'année comme un fabuleux accent pour toute tenue.

Roulé à main, voici un écharpe unique.
Harpe celtique
Le dessin est inspiré par la petite harpe celtique (clàrsach en gaélique) est populaire en Ecosse, en Irlande et en Bretagne, où elle chante avec un ton vif.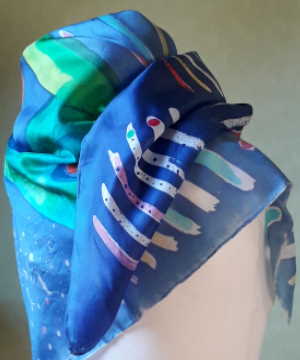 €75 frais de port inclus
---
All designs featured on this website are the Intellectual property and copyright of Gooden Gansey © All rights reserved.

HOME Sale KnitKits & Patterns Resources Contact About
---
---
Le droit d'auteur de tous les dessins affichés sur ce site sont la propriété intéllectuelle de Gooden Gansey © Touts droits réservés.

ACCUEIL Vente KiTricots & Patrons Ressources Nous contacter
---